FURNACE CLEANING IN DURHAM CT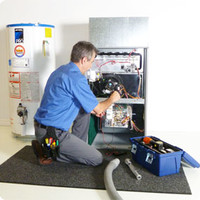 If your Durham heating system does not work, it is likely that your furnace needs repair or service. Sometimes it's easy, other times it's not. Our furnace and heating technicians have 30 years of experience working on furnaces like yours in Durham.
When you have a need for furnace repair or service in Durham, turn to Mid-State Mechanical for your solution. Furnace repairs and service in are a part of owning a home in Durham, and all too often the last thing on the homeowners' mind until something is not working correctly or worse, they are without heat and hot water. A simple way to reduce furnace repairs is to keep your furnace in tip-top shape with scheduled annual boiler service and cleanings.
Durham CT Furance Cleaning & Service
Many homeowners in Durham find themselves too busy to make the call and have an annual tune-up and cleaning performed on their boiler system. Furnace repairs in Durham are usually going to present themselves at the worse times, coldest days of the winter, the first day of startup, or when you wanted to take that hot shower after a long days work, especially if annual service is not performed.
Mid-State Mechanical provides annual furnace cleaning and tune-ups, repairs, and service in Durham. When your boiler is in need of yearly service, repairs, or replacement let us know!
Furnace & Boiler Services We Provide in Durham, CT:
Furnace Cleaning
Boiler Cleaning
Furnace Repair
Boiler Repair
Furnace Installation
Boiler Installation
Furnace Maintenance
Boiler Maintenance
Furnace Service
Boiler Service
Furnace Tune-Ups
Boiler Tune-Ups